TAFE Access Limited - Hydraulic Cylinder Division
The Hydraulic Cylinder Division (HCD) of TAFE Access Limited (TAL) – a wholly owned subsidiary of TAFE, was established in the year 2009. With a product offering that is durable and known for its superior quality and exceptional features, TAL's HCD strives to be one of the largest organization in the field of fluid power in India.

With the expertise to provide complete solutions in varied segments such as construction, mobile and industrial segments, its features like precise designs, optimum performance, sturdy construction and ease of use, set it apart. With in-depth technical knowledge and industry experience, TAL HCD has been able to create a mark in the field of fluid power. Development, enhancement and expansion of the existing product range are an ongoing process to meet dynamic market needs. Regular feedback and suggestions from the clients help enhance the process further.

HCD manufactures a wide range of hydraulic cylinders with a configuration range of up to 500 mm bore, and are available in different specifications as per client requirements. Fitted with advanced features, TAL's hydraulic cylinders offer a range of welded as well as tie rod construction hydraulic cylinders.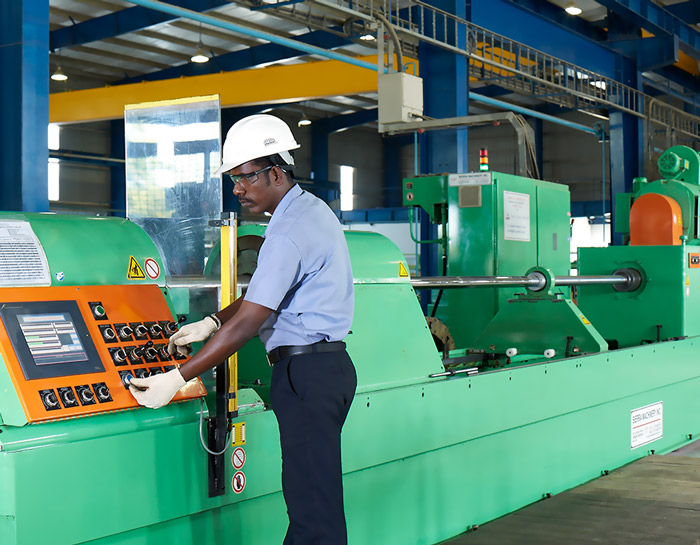 Sectors
We cater to a wide range of industries, customizing products to meet the unique needs of each sector. Some of the industries where TAL's Hydraulic cylinders are used, include the following:


Concrete pumping unit
Pavers
Trailers
Earthmoving equipment
Construction equipment
Drill rig equipment
Multilevel parking
Material handling equipment
Hydraulic ground support
Agriculture
Mining
Defense
Bulk material handling
Steel plants
Leisure/ Utility vehicles
Injection moulding
General engineering
Machine tools
Wind & Solar energy
Quality
TAL is committed to achieving total customer satisfaction through excellence in quality of its products and services. TAL HCD benchmarks itself against the global hydraulic standards, thereby fostering a culture of continuous improvement and a commitment to unmatched quality of product and services. The approach to manufacturing has been to integrate quality into the processes to achieve consistency, reliability and quality in products. Our manufacturing facilities are certified under ISO 9001:2008.

The TAL Hydraulic Cylinder Division regularly undertakes training on quality concepts, techniques and functional schemes for its employees as a measure to continuously augment its quality management services. Through continuous design efforts, and the use of sophisticated manufacturing and testing facilities, TAL HCD has developed the capability to match international quality standards and meet stringent user requirements, becoming the preferred partner for major OEMs' hydraulic cylinder needs.

A robust vendor quality system and selection process ensures unmatched quality of product and services. A state-of-the-art laboratory supports product validation and maintains consistency. Quality of the cylinders is demonstrated through chrome plating with corrosion resistance measuring up to CLASS 9.5 rating and cylinder cleanliness of NAS level 7 or better.